I am linking up again with The Real Housewife of Suffolk County, for My Week That Was.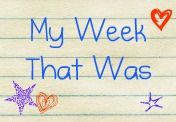 Monday
Boring Work Day for Me
Grayson on half term, so Daddy at home with a Poorly Grayson and Addison
Tuesday
Ash bought Addison and I some flowers, one of her 1st words was Flower, she just loves them
Grayson managed 10 minutes in his Walker without getting too upset ( shame it's too big)
Got confirmation today that we get our new home on 15th March
Wednesday
Another Crappy day at work made even worse by having to spend the afternoon in meetings in London
Thursday
Addison went off to Gamma's, Grayson had a double therapy appointment this morning, did better than I thought.

We went for our 20 week re scan with the NHS – all went well.
Went off to measure the rooms in our new home, small bedrooms but we will cope
Friday
Grayson doing amazing with his standing, even if too close to the TV
Had a scrummy dinner of homemade burgers and chips
Saturday
Early start with both bubba's up by 5am

Went off to The Baby Show
Meet some amazing bloggers as well as getting to see Sian at the Stokke Stand
Bought new treats for all 3 Babies at The Baby Show
Bad evening from Grayson with screaming fits, but managed 6 hours unbroken sleep
Sunday
I had a small lie in thanks to the Hubby

Woke up feeling really poorly
Addison has enjoyed playing with her new RC Car we got her at The Baby Show
Ash popped out and came home with lovely goodies for Sweet-pea
Tags: 2013, Addison, baby, bloggers, grayson, my week that was, special needs, sweet pea, the baby show, therapy, work
Trackback from your site.