Anyone with kids probably agrees that when you have them, your money ends up being spent on cute clothes for them rather than you, I am certainly no exception. Grayson being my 1st had an obscene amount of clothes from Birth, I would love to dress him in little outfits, with matching hats etc.
When Addy was born I thought I would be so much worse with a girl, but if I am honest I prefer boys clothes, I think it's because Addison is not your typical cutesy girl, she hates dresses, she would much rather be in a pair of Jeans and cute trainers, at the beginning I would long for a pretty little princess wearing girlie, but honestly now I love to embrace her tomboy side, she really suits little jeans and printed tee's.
All this being said this post goes against that as she is in a dress, tights and has a pretty corsage in her hair, you see when it comes to Hello Kitty Addison can be swayed to prettiness.
I had for a while wanted to share outfits of my bubba's, as let's be honest they are dressed better than me, so when I found Trendy Tuesday over on the Medicated Follower's blog it gave me an excuse to start sharing, so why don't you head over and check it out and join in.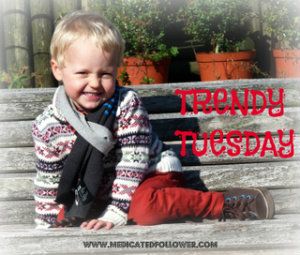 This outfit is actually a couple of weeks old, from a day out shopping at Ikea.
Hardest thing was getting Addison to stand still long enough for me to take a picture, it was a momentous day too as it was the 1st time she had allowed me to put up her hair in a ponytail.
Perfect outfit to enjoy snacks in
Hello Kitty Dress – Asda
Tights – From a Triple Pack from Next
Cardigan – H & M (still 9/12mths tiny thing)
Coat – Next
Corsage – Handmade by Annie and Jean